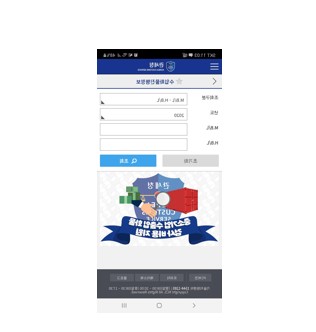 Wider Access to Import Cargo Clearance Information through Mobile Service Korea Customs Service (KCS) has established a mobile homepage which provides clients with import cargo clearance information through their cellular phones.
The service has opened to the public from 5 December.
With the service in place, clients are now able to get necessary customs information both on the Internet and through their mobiles.
To use the service, they only have to visit the KCS website (www.customs.go.kr) and key in the number of B/L (bill of landing) or the cargo identification number issued by KCS to the information input box.
The service provides convenient links between clients' mobiles and the Customs Administration Information System which is a database of import cargo clearance and logistics thereby creating ubiquitous environment where people can use needed information whenever and wherever.
The mobile service is expected to upgrade transparency of customs administration and boost corporate competitiveness.
The launch of the service bears a significant meaning as it is the first mobile electronic government system which contributes to reducing infrastructure building costs and creates the synergy effect of e-government.
Many other government agencies are expected to follow the footsteps of KCS and introduce such practices.