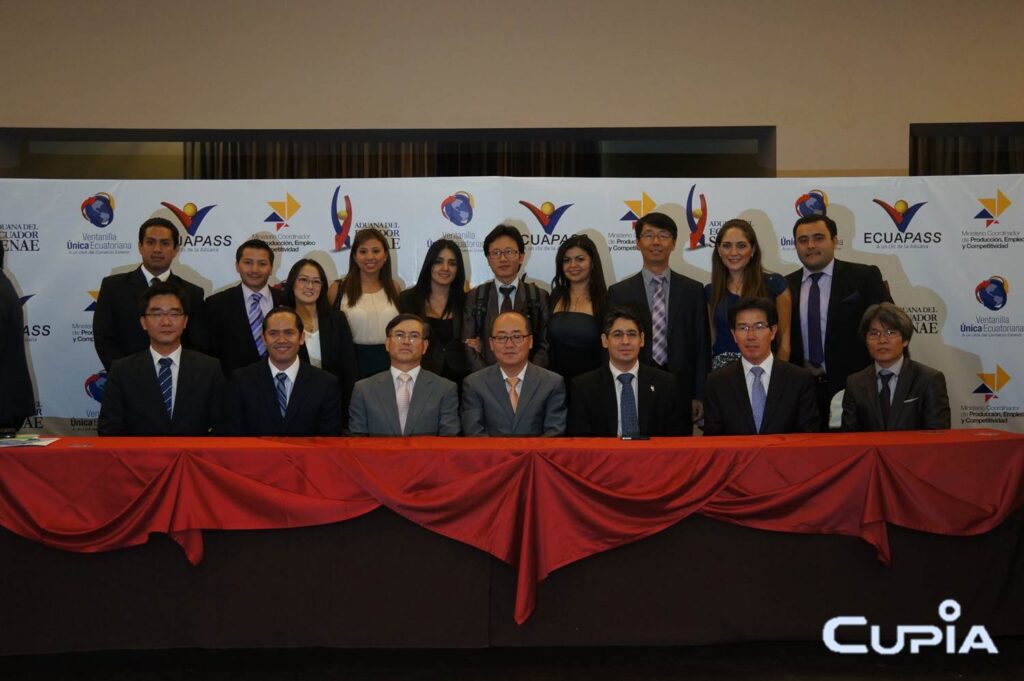 Government of Ecuador established presidential decree number 285 for the simple and swift clearance in march 2010 and plan for Ecuadorian Single Window system was established.
In accordance with presidential decree number 285, MCPEC was assigned tasks regarding to preparation of system implementation, system implementation, cooperation of agencies. MCPEC expressed interests on Korea Customs Single Window System since it is recognized as a best practice of e-clearance system by World Bank, and the world.
In September 2010, MCPEC and Korea Customs Service signed cooperation agreement for the implementation of Single Window System and the experts from Korea Customs Service and CUPIA established detailed plan for Single Window implementation by analyzing the foreign trade environment, customs administration status, LPCO approval status, and the status of the system in Ecuador.
In september 2011, MCPEC signed the contract on consignment for Single Window system with CUPIA, which had experience of implementation and operation of Korea Customs Service.
By analyzing the work process, status of LPCO approval form, and status of existing system of twenty regulatory agencies, reasonable and optimized future process was designed and implemented for Ecuadorian Single Window. Also, the system for LPCO approval was provided to the organizations where they did not have one.
For the implementation of Single Window system which requires the cooperation for interface, work arrangement, reform of legal system between organizations, CUPIA cooperated with MCPEC, SENAE, and twenty regulatory agencies and overcame with several obstacles. CUPIA contributed the Ecuadorian Single Window System the advanced technology, knowledge, and know-how which was proved by the Korea Custom's Single Window system and transferred them to Ecuador through the deliverable, training and invitation training.
On the other hand, Korea Customs Service supported the project by designating experts, supervision and suggesting MCPEC invitation to Korea Customs Service.
List of connecting agencies:
Classification
Abbreviation
Name of LPCO Authority
Food and medicine
MSP
Ministry of Public Health
ARCSA
National agency of Regulation, Control and Health Surveillance
Agricultural, Hygiene, Zoology
MAGAP
Ministry of Agriculture, Livestock, Aquaculture and Fisheries
AGROCALIDAD
Ecuadorian Agency for Quality Assurance of Agriculture
INP
National Fisheries Institute
SA
Undersecretary of Aquaculture
SRP
Undersecretary of Fisheries Resources
UNI-BANANO
Direction of Banana
Quality of Manufacture
INEN
Ecuadorian Institute of Standardization
OAE
Accreditation Agency of Ecuador
Import and Export Control
CONSEP
National Council of Narcotic and Psychotropic Substances
SCIAN
Undersecretary Nuclear Research and Application
INPC
National Institute of Cultural Heritage
MAE
Ministry of Environment
DGAC
Directorate General of Civil Aviation
CCFFAA
Joint Command of the Armed Forces of Ecuador
INCOP
National Institute of Recruitment Post
MIPRO
Ministry of Industry and Productivity
Clearance and exemption
CONADIS
National Council on Disabilities
MRE
Ministry of Foreign Affairs
Data connection between institutions
SRI
Internal Revenue Service
SC
Superintendent of Companies of Ecuador
CDE
Postal Office of Ecuador
Please don't hesitate to contact us if you need further information about the assistance.