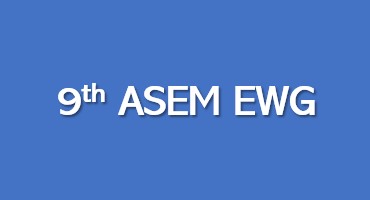 The Korea Customs Service (KCS) hosted the 9th ASEM Customs Enforcement Working Group Meeting (ASEM EWG) from 20th to 21st April 2006 in the Ritz Carlton Seoul, Korea with the presence of 60 representatives of 39 Asian and European Customs administrations and international organizations like the World Customs Organization.
The ASEM EWG Meeting is aimed at discussing international issues relating to Customs investigation and surveillance, and thereby coming up with practical measures to tackle challenges ahead of the Customs community with representatives of 13 Asian countries including Korea, China and Japan, 25 European countries such as France, Germany and the United Kingdom, and the European Commission. In the ASEM EWG, ASEM members discussed the way to prevent growing international illegal trade of drugs, counterfeit goods, and terrorist weapons.
In particular, reflecting discussion results of the International Conference on Customs Protection and Enforcement of IPR (IPR conference), which was held by KCS the day before the ASEM EWG meeting in order to explore ways to stop IPR infringement in the world, members drew up an action plan for Asian and European Customs administrations to utilize in implementing their IPR enforcement activities. KCS made use of the IPR conference and the ASEM EWG as an opportunity to raise international confidence in IPR protection activities of Korea while publicizing its advanced IPR enforcement techniques and achievements in the IPR conference and the ASEM EWG, and adopting a Contribution to be made by ASEM members to protecting IPR.
The ASEM EWG focused on discussions over security of Trade Supply Chain. Deliberating about ways to thwart movement of terrorist weapons such as explosives in disguise of legitimate trade, members agreed the importance of information exchanges among Customs administrations and cooperation with traders like importers/exporters, warehouse owners and forwarders.
Trade Supply Chain refers to all the flow that an im/export undergoes from domestic transportation, to importers/export, foreign transportation, ex/import, clearance and release. Customs representatives of 39 Asian and European countries expect that the ASEM EWG will greatly contribute to establishing a foundation for mutual cooperation by providing a venue to share information of the movement of drugs, smuggled goods and weaponry, and control techniques among members.