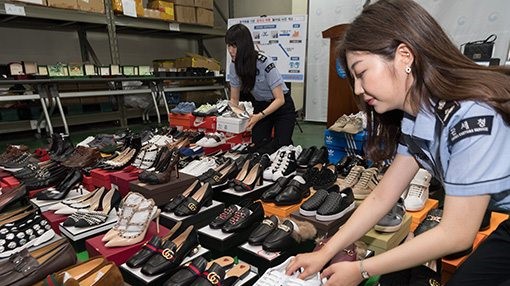 KCS seized 489.5 billion won of fake goods in the anti-counterfeiting blitz, determined to build up momentum.
The Korea Customs Service (KCS) announced on 16th May that it made 363 seizures valued at 489.5 billion won in the three-month anti-counterfeiting blitz of Operation C.C.C. launched from February to April.
The figures were significant increases of 3.8 times in number and 8.4 times in value from the previous ones of 95 seizures or 58.6 billion won.
Fake cell phones (177.7 billion won) accounted for the largest portion of the seizures followed by fake bags (119.4 billion won), clothes (109.6 billion won), watches (34.9 billion won) and pharmaceutical products (22.7 billion won).
For the operation, KCS deployed 144 investigation teams of 498 officers under the Special Enforcement Headquarters led by Deputy Commissioner of KCS.
KCS also implemented the Spider System, which is designed to screen out counterfeit goods, while utilizing the Smuggling alert System set up in last May.
KCS also launched the Customs Business Working Group (CBWG) for information exchange with relevant organizations and signed an MOU with the Korea Intellectual Property Office for the protection of intellectual property rights.
Along with Operation C.C.C., KCS hosted the International Conference on Customs Protection and Enforcement of IPR with presence of more than 400 people including IPR experts across the world.
The conference provided a venue for participants to discuss the ways to effectively protect IPR and to enhance Customs to industry cooperation, having been recognized its contribution to global IPR protection.
An exhibition of fake goods held during the conference received positive response from Customs officers and trademark holders who participated in the conference. In the exhibition, KCS displayed its enforcement activities and seized fake goods.
KCS has evaluated that Operation C.C.C. helped publicize KCS determination to anti- counterfeiting, enhance partnerships with industry and raise officers capability to discern fake goods from genuine ones. KCS will leverage the CBWG in gathering opinions from industry to reflect them on Customs policy and pursue anti-counterfeiting efforts until counterfeit goods disappear on the market. In addition, KCS will make every endeavor to become a leading country in IPR protection on the globe while launching public campaigns ceaselessly in order to ensure sound consumption of the public.