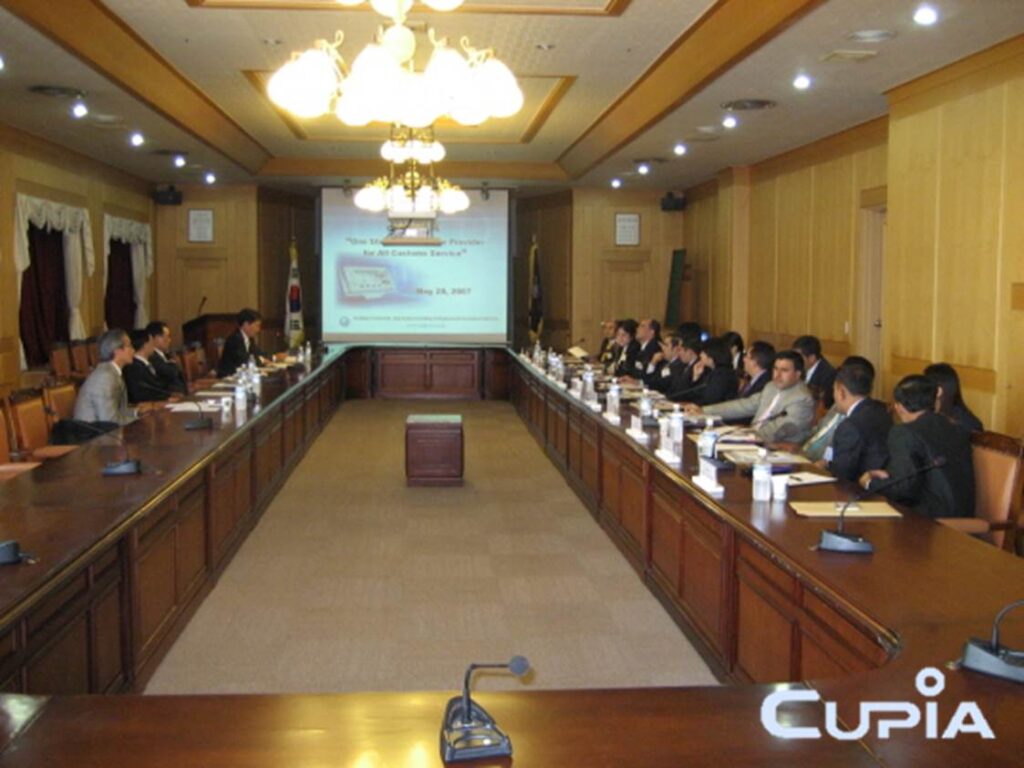 CUPIA and Korea Customs Service held the Customs Administration IT Seminar from 22 to 28 of May on the theme of Korea Customs Informatization and UNI-PASS system.
On 22 May 2007, 12 high level officials from 6 countries; Paraguay, Guatemala, Ecuador, Azerbaijan, Nepal, and Cambodia gathered at Korea Customs Service of Daejeon for an IT seminar on Customs Administration Informatization.
The seven-day Seminar focused on up-to-date technologies and Informatization of Korea Customs Service to introduce UNI-PASS and CLIS system to Latin America and Central Asia coutries, by visiting Busan and Seoul Customs house.
From left side below to right: Azad Mammadov(Azerbaijan Customs), Kolin Kong(Cambodia Customs), Anaximandro Ayerdi(Guatemala Customs), Shahin Baghirov(Azerbaijan Customs), Jong-Un Lee(CUPIA), Maria Margarita Diaz de Vivar(Paraguay Customs), Ana Guisela Chang (Guatemala Customs), Petr Petrovich Studenko(Paraguay Customs), Rajan Khanal(Nepal Customs), Laxmi Prasad Yadav(Nepal Customs) – From left side top to right : IV Taing Phea(Cambodia Customs), Ji-Eun Kim(CUPIA), Daniel Moon (CUPIA), Min-Ji Cho(KCS), Seung-Kyoo Lee(CUPIA), Sang-Cheol Park(KCS), Juan Carlos Jacome (Ecuador Customs), Alfredo Villavicendio(Ecuador Customs), Kyung-Hwan Kim(CUPIA)