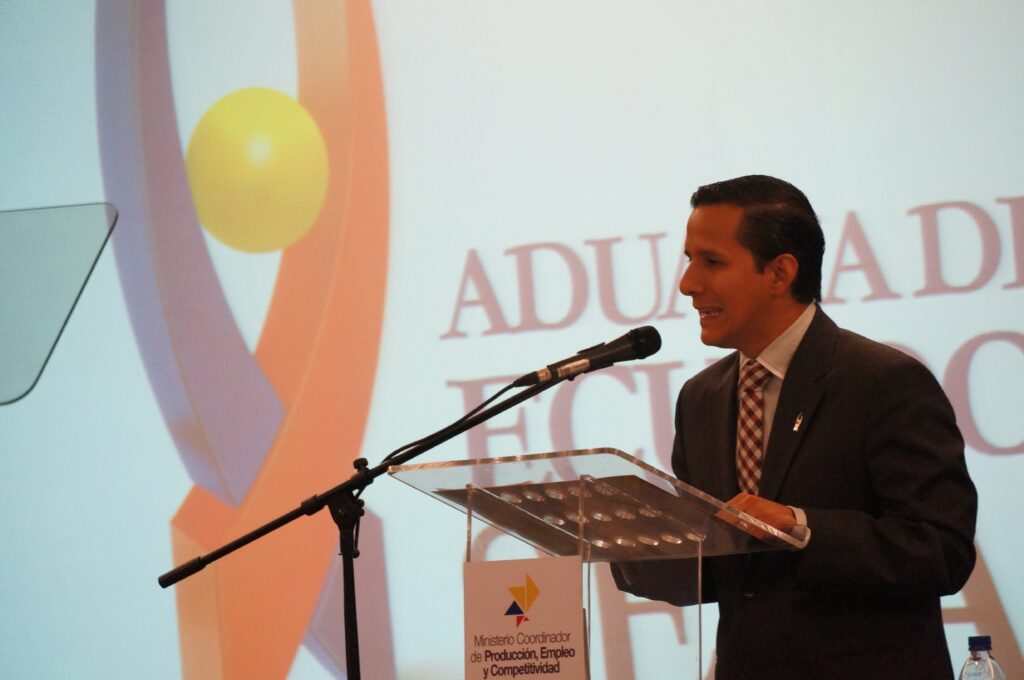 Senae (new for CAE) reduces customs clearance time.
Approximately 20 technicians from Korea Customs Service is working for SENAE. Their objective is to reduce paper work for cargo customs clearance and provide quickerservice.
From December 30th 2010 onward, Ecuador Customs will change its name to SENAE and the work of Koreans will have great affect on overseas trade.
Since the effectivation of the trade and investment production law, CAE was reborn as SENAE. Also, the revised tariff legislation within production law was finally approved on December 30th 2010.
The renewed tariff policy aims to increase reliability from civil areas by quickening the cargo customs clearance and providing advance tax payment service.
Mario Pinto, director of SENAE, mentioned the above and announced the use of new technology that will reduce more than 150million in foreign trade. He also said "the revised tariff policy aims to provide a better, more effective, high qualityservicefor customs."
The revised policy also includes a strengthened fine policy for those who do not pay their tax. SENAE now has more authority over fine application and punishment.
"There were only two options before. Either pay a fine of 26, 28$ or leave it as a crime. There was no middle ground, and for some cases the level of crime couldn't be defined to decide whether tocharge for26 or 28$." said the director.
Even more, there are still numerous cargo and articles that were reported as under 500$. This is a huge loss for thenation and the import trader.Since 2007, there have been more than 4000 cases reported to the court for tax omission.
The director said that SENAE's objective is to quicken work procedure, reduce the length of stay for ships atGuayaquil harborfrom 6 days to 2, and eliminate use of paper work.
–
Customs Service aims to reduce 150million of costin the foreign tradearea through the new system.
Nelson Cordero, head of QUITO Customs Assiociation, said "the revised tariff policy not only puts more importance on the clearance system, but makes it more effective. There will be a clear policy that foreign traders could follow. They must now do business according to the policy."
"SENAE will provide good education programs that must be given to customs brokers and workers which will contribute to achieving the aim of reducing clearance time" he said.
He also said "the revised tariff law will reduce storage cost that affect the harbor". Workers acknowledged that CAE accepted many requirements to define the revised tariff law.
Jorge Maldonado, director of customs(ADA) said he will actively participate in the social adaptation of the revised tariff law project and that "educating and informing customs brokers and professionals of the new policy is our responsibility".
Korean Technology Applied in Customs Service
Since 2 weeks ago, 20 korean technicians are participating inthe development of a new foreign trade system.
The government signed a 2000$ contract with Korea for the Korean system to be launched within 2 years.Currently the project is on its first stage and will go on for 4 months. Here, the DB data would be switched and the ecuador technicians will be educated of the new system. In 2010, SENAE collected 3.081 million. It shows an increase of 23% since 2009. "Korean technicians, working with Ecuador technicians, are putting great effort in collecting data and 25 of Ecuador technicians will visit and learn in Korea" said the director, Jose Rodriguez said. The results of the Korean workerscould be seen in January, 2012.
Greatest Tax Collection
A director from SENAE reported that the tax collection for 2010 was $3.081 million, a 23% increase from 2009. This will be a great opportunity for the nation.
The number of export items have increase while import items showed decrease.
"The government is taking necessary actions to manage trade balance and is securing international balance of payments" said the customs director.
Alex Cordova
acordova@telegrafo.com.ec
reporter