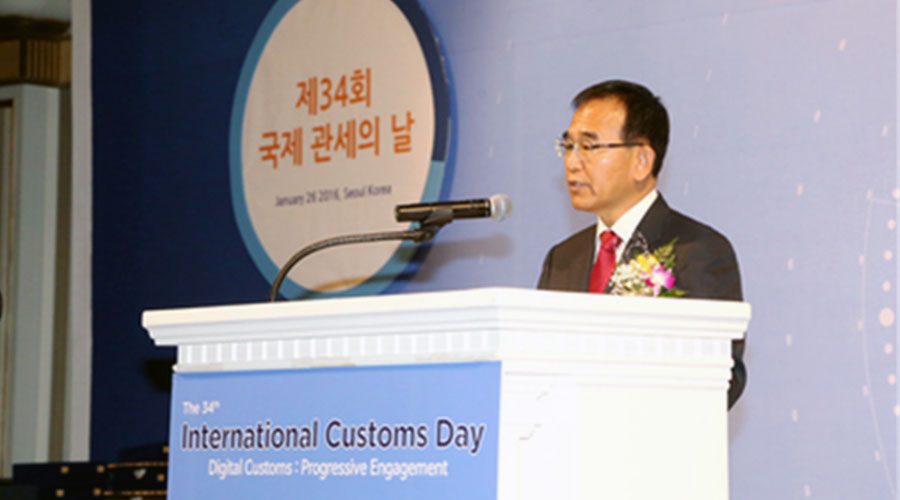 On January 26th, Korea Customs Service held in Seoul an event celebrating the 34th anniversary of International Customs Day, with the theme of 'Digital Customs: Progressive Engagement'. The International Customs Day ceremony is the event first proposed by Korea and adopted by WCO and since 1983, every 26 January, nations around the globe host this huge event, together with delegations and organizations overseas.
Kim Nak-hoe, Commissioner of KCS, explained that the Digital Customs which allows mutual sharing of information among traders, logistics companies, and relevant agencies by utilizing the high tech IT technology, will give boost to accuracy, speed, and transparency in customs administration. Additionally, the directors of bureaus gave presentations on topics such as KCS's customs e-clearance system, 'UNI-PASS', and Country of Origin management system, 'FTAPASS' along with their expected contribution in export of e-government.
During the ceremony, the commissioner's appreciation plaques were awarded to those distinguished companies which have contributed toward expanding Korea's e-government, and WCO Secretary General's awards were presented to public officials and employees from the private sector. This day, one of CUPIA's proud employee was presented with the WCO Secretary General's award as recognition for its service, proving CUPIA's excellence and professionalism worldwide.
CUPIA will continue to strive for fostering professionals who can contribute to successful advancement of the world's customs administration.