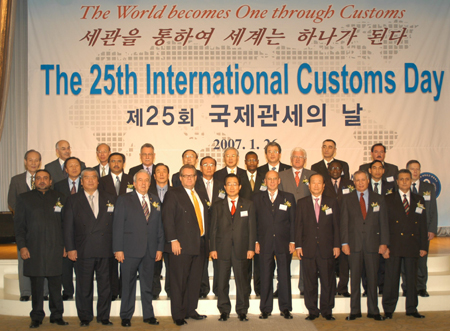 The Korea Customs Service(KCS) hosted the 25th International Customs Day reception at the Grand Ballroom in the Ritz-Carlton Seoul on Jan. 26, 2007, in the presence of about 160 participants including foreign Ambassadors and Commercial Counselors to Korea and guests from home and abroad.
Celebrating the establishment of the World Customs Organization(WCO), the WCO and Customs agencies of countries designated Jan. 26 as 'International Customs Day' and have held a commemorative reception every year, enhancing international cooperation in customs administration.
At the International Customs Day reception this year, under the theme of 'IPR protection', a genuine and fake products exhibition was held and a short video on IPR protection activities of KCS was also showed.
In addition, WCO Certificates of Contribution were awarded to customs officers who had made a great contribution to safeguarding IPR , raising participants' awareness of IPR protection.
Meanwhile, Commissioner, Seong, Yun-Kap, stated, in his commemorative speech, major