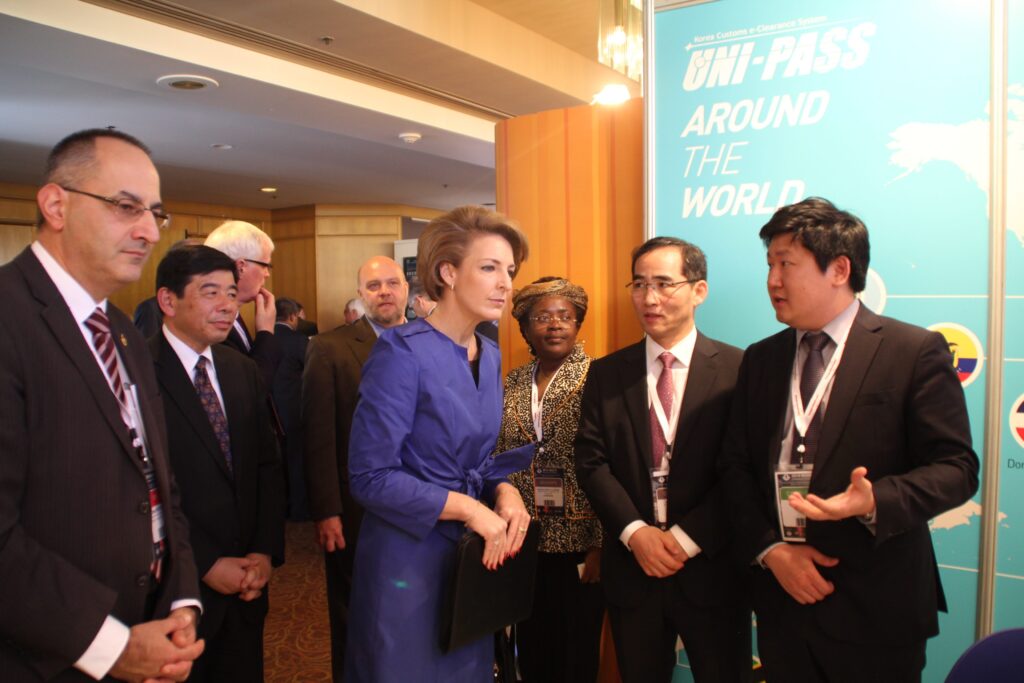 CUPIA participated in the annual WCO IT Conference celebrated in Brisbane Australia from May 5 -7 under the theme: Information Technology as a Catalyst for Economic Competitiveness, Innovation Powering Facilitation of International Trade & Tourism.
The speech for the opening ceremony was honored by The Secretary General of WCO Mr. Kunio Mikuriya, CEO of Australian Customs and Border Protection Service, Mr. Michael Pezzullo and the Assistant Minister for Immigration and Border Protection, Senator Michaelia Cash, who had the chance to visit the exhibition booth of UNI-PASS (pictured above).
Keynote speeches included His Excellency, Ahmed Mahboob Musabih, Director of Dubai Customs, Mr. James Canham, Managing Director of Global Customs Industry Lead Accenture, Mr. Barry Hore, Chief Operations Officer of South African Revenue Service and more. Round tables with discussions on if the customs is ready to implement the WTO Agreement on Trade Facilitation; IT accelerating trade facilitation; Data quality and other ways in which he private sector can contribute to raising the efficiency and effectiveness of border procedures; and national and international practices for coordinated border management.
CUPIA participated as an exhibitor alongside with the Korea Customs Service in promoting the best practices, experiences and know-how on the development and operation of the UNI-PASS system. CUPIA has participating in the annual WCO IT Conference since the year 2007, celebrated in Veracruz, Mexico.