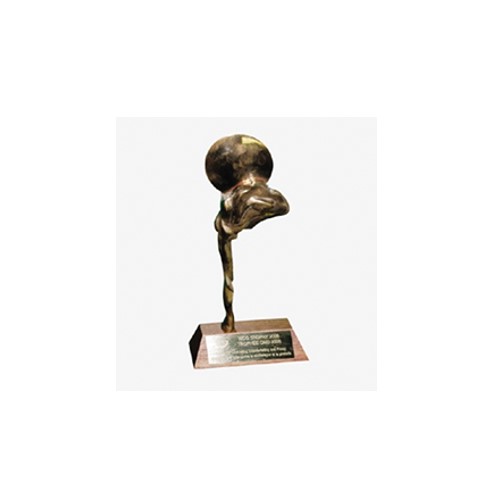 Korea Customs Service, the first winner of "WCO Trophy 2006" The Korea Customs Service (KCS) was awarded with "WCO Trophy 2006″in recognition of its contribution to protecting intellectual property rights (IPR) at the Council of the World Customs Organization (WCO) held on June 30, 2006 in Brussels, Belgium.
The WCO Trophy was initiated this year by the WCO as a means of recognizing, every two years, a member administration which has achieved outstanding results in a priority area in the international Customs environment.
As trade in fake merchandise reaches a dangerous level, global leaders proclaimed their will to protect IPR at the international events such as the APEC Summit and the G8 Summit held last year, regarding counterfeiting and piracy as a grave challenge to economic and social security. Against this backdrop, the WCO has called on Customs administrations around the world for the need to protect IPR, giving priority to combating counterfeiting and piracy.
The WCO decided to present its first Trophy to a member Customs administration which has achieved impressive results in the field of combating counterfeiting and piracy this year. KCS was honored with winning the Trophy in competition with 169 WCO member Customs administrations.
Behind the success is KCS' commitment to detecting counterfeit goods by setting up strategic investigation mechanisms coupled with campaigns launched to crack down on counterfeit goods as part of this year's grand projects.
In response to rampant transaction of fakes, KCS organized the Strategic Intelligence Centre early this year and the centre has successfully served as a control centre of information on counterfeit merchandise.
The centre has spearheaded in stopping IPR infringement activities by analyzing and reproducing information gathered from trademark holders, the Regional Intelligence Liaison Organization and overseas Customs administrations.
KCS has also made the most use of the Smuggling a_ert System designed to detect smuggled goods and the Spider System aimed at screening out fakes in taking timely action upon detecting counterfeit imports and exports, and identifying suspicious goods in a scientific and systematic way.
On top of that, between February 1 and April 30 this year the Special Enforcement Headquarters, which led by Deputy Commissioner of KCS and consisted of 144 teams of 498 officers, launched "Operation C.C.C.", a dedicated fake crackdown campaign, making achievement of 458 seizures valued at KRW726.1 billion or 2.9 times and 7.6 times as high as seizure records of the previous year in terms of number and amount.
Recognizing that the national image has been undervalued in the international community despite its active enforcement activities to protect IPR, KCS has also pushed ahead with plans to promote international cooperation and to raise public awareness.
As part of its efforts, KCS hosted the International Conference on Customs Protection and Enforcement of IPR and held the Exhibition of Fake Goods on April 19, 2006. At the events, KCS provided an opportunity to raise the national image, demonstrating its determination to protect IPR and publicizing its enforcement activities to more than 400 participants from foreign Customs administrations, international organizations, and trademark holders.
Furthermore, KCS signed an MOU with the Korea Intellectual Property Office to exchange information for more efficient IPR enforcement, set up the IPR Protection Information Exchange Committee, and actively participated in international information exchange efforts through global programs like Project Crocodile (a global information exchange system on tobacco smugglers among 16 Customs administrations ) and the Customs Enforcement Network (WCO's electronic network for the exchange of investigative intelligence on drugs and fakes.) This is the first time for KCS to have received a prize from an international organization since its inception in 1970. With the Trophy, KCS' mechanisms for IPR protection are recognized internationally and KCS also contributes to boosting Korea's national image of IPR protection around the world.