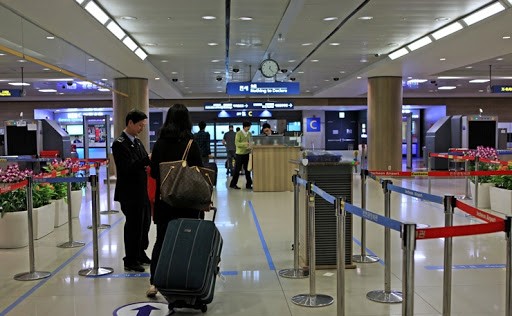 – Ordinary passengers, passing through the customs in no more than 19 minutes –
The Korea Customs Service (KCS) released its monitoring results over the time spent for passenger clearance at sea or air ports in Korea in the first quarter of 2007. According to the results, it took an average of 19 minutes for inbound passengers to go through the customs after arriving at a sea or air port.
KCS said that customs clearance of passengers was completed fastest in Gunsan Port, requiring about 12 minutes, while taking about 27 minutes in Incheon Port. Meanwhile, in Incheon Airport, through which some 80% of inbound passengers enter Korea, it took about 24 minutes to pass through the customs, consecutively recording less than 26 minutes since the second half of 2004.
In order to provide standardized clearance service across the country, KCS has conducted monitoring over the time for customs clearance phase by phase at 12 sea and air ports within the country each quarter since the second quarter of 2005. According to the monitoring results, the average time needed for passenger clearance has reduced from 21 minutes and 32 seconds in 2005 to 19 minutes and 23 seconds in 2007.
20 minutes of clearance time for ordinary passengers is within the scope of the recommendation by the International Air Transport Association (IATA) (45 minutes) and the standard of Incheon International Airport (30 minutes).
KCS attributed the drastic cut in clearance time to the consistent innovation in the customs system since the opening of Incheon International Airport, which enabled speedy clearance of ordinary passengers without an additional inspection and selective inspection into high-risk passengers through scientific surveillance systems.
By introducing the Advance Passenger Information System (APIS), Korea Customs analyzes passenger information before the arrival of an airplane, conducts a close inspection into high-risk passengers screened out based on the analysis, observes the movements of passengers through the CCTV in the arrival hall and traces those selected through APIS.
In addition, by utilizing an electronic tag system, KCS attaches an electronic tag on prohibited or restricted goods including firearms, sword, etc. based on the X-ray inspection into the baggage and guides them to the inspection counter after sensing the tag automatically. Ununiformed officials also oversee suspicious passengers at the arrival hall utilizing movement observation techniques.
KCS said that it would continuously try to provide speedier clearance service and remain at the top of customs administrations in the evaluation of service quality in international airports conducted on a quarterly basis by the Air Council International (ACI), by working out various measures for more swift and convenient clearance of ever-growing international passengers.